The Diabetes Initiative launched in 2016 through a partnership of Community Health Innovations, Community Hospital of the Monterey Peninsula, Monterey Independent Physicians Association, and Salinas Valley Memorial Healthcare System.
Enroll in the Diabetes Initiative
LEARN MORE ABOUT PEDIATRIC WELLNESS
Our purpose:

To make a positive change in the effect of diabetes for Monterey County residents.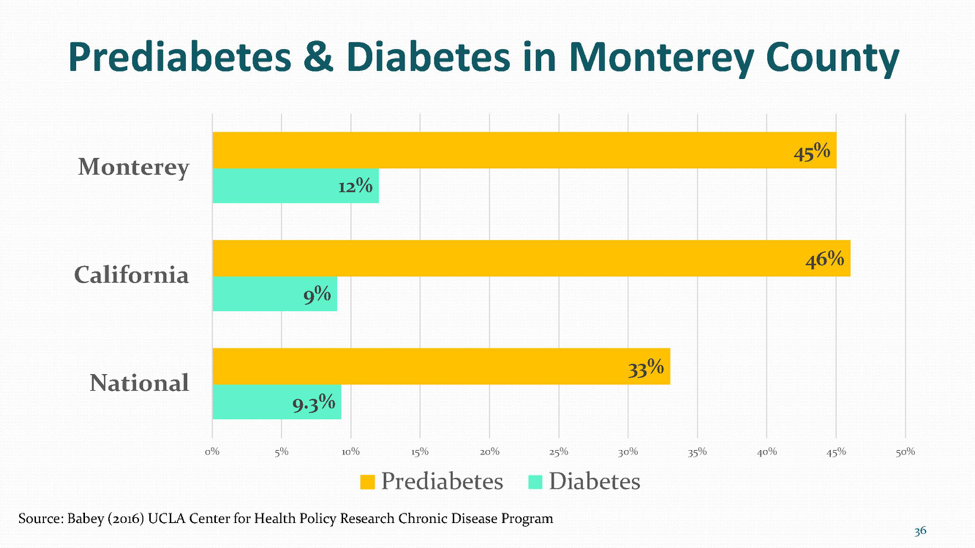 Resources to diagnose, treat, and manage diabetes and prediabetes
Diabetes Prevention Program
YMCA
If you have been diagnosed with pre-diabetes, or believe you may be at risk for developing the disease, the YMCA's Diabetes Prevention Program can help you develop a healthier lifestyle and work with you to reduce the risks this condition can pose to your health. Recognized by the Centers for Disease Control as a Diabetes Prevention Program.
(831) 757-4633
Email: preventdiabetes@ymcacentralcoast.org
www.centralcoastymca.org/programs/diabetes-prevention-program/
---
Diabetes Programs
Community Health Innovations
Monterey County Diabetes Collaborative
Vilma Andari, MS
Director
(831) 644-7457
Community Hospital of the Monterey Peninsula
Outpatient Diabetes and Nutrition Therapy
Personalized care, practical skills, and interactive learning are offered in our diabetes classes and services.
(831) 649-7220
chomp.org/diabetes
Natividad Medical Center
Diabetes Education Center
Services include individual counseling and education, group counseling and education, community presentations, and outreach.
(831) 755-6292
Natividad.com
Salinas Valley Medical Clinic Diabetes & Endocrine Center
Offering a comprehensive diabetes management program that includes personalized care, education and nutrition support and outstanding outcomes.
(831) 757-2058
svmh.com/diabetes
---
Diabetes Specialists
Dana Armstrong, RD, CDE
Director of Diabetes Services
Salinas Valley Medical Clinic Diabetes and Endocrine Center
1033 Los Palos Drive, Suite A
Salinas, CA  93901
Phone (831) 757-2058
svmh.com/diabetes
Dr. Haleh Bassiri
1010 Cass Street, Suite A1C
Monterey
(831) 655-3307
Dr. James Chu
2 Upper Ragsdale Drive, Suite B200
Monterey
(831) 375-6334
Dr. Allen King
Diabetes Care Center
1260 South Main Street, Suite 202
Salinas
(831) 769-9355
www.diabetescarecenter.com
Dr. Yolanda Kruszynska
Diabetes Care Center
1260 South Main Street, Suite 202
Salinas
(831) 769-9355
www.diabetescarecenter.com
Dr. Nicolas Kissell
Salinas Valley Memorial Healthcare System
Diabetes and Endocrine Center
1033 Los Palos Drive, Suite A
Salinas, CA 93901
(831) 757-2058
Dr. Resmi Premji
Montage Medical Group
2930 2nd Avenue, Suite 200
Marina
(831) 582-2100
www.Montagemedicalgroup.org
Dr. Robert Revers
Salinas Valley PrimeCare Medical Group
355 Abbott Street, Suite 100
Salinas, CA 93901
(831) 751-7070
www.primecaremedicalgroup.com
Dr. Leonard Sanders
Montage Medical Group
2930 2nd Avenue, Suite 200
Marina
(831) 582-2100
www.Montagemedicalgroup.org
---
Free Resources
RotaCare Clinic
Free weekly clinic
Wednesdays, 5 p.m.–9 p.m.
1150 Fremont Boulevard
Seaside
(831) 333-6495
www.rotacarebayarea.org/clinics/monterey
---
Online Resources
American Diabetes Association
www.diabetes.org/living-with-diabetes
www.Cornerstones4Care
www.cornerstones4care.com
www.Solera4me.com
(available to insurance companies listed on its website)